Welcome to Maxwell Ancestry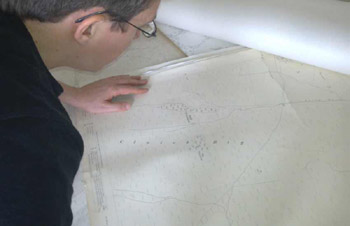 Graham Maxwell set up Maxwell Ancestry in 1996 and in 2001 his wife Emma joined the team. After Graham started researching his own family history over twenty years ago, several friends enlisted his help with their own family trees. He gained a reputation and a following as a genealogist and the business grew from there.
Things have changed a good deal in genealogical research since the early days of the business. Back then, General Register Office staff would bring the original books to your desk, where you would wade through the volumes and take painstaking notes. As well as being time-consuming, this method meant that with time and use the books were wearing out. The General Record Office moved to copying all their documents onto microfiche: you got the correct reference from the computer index, filled out an orange slip and then sought the correct microfiche from the drawer. While this process safeguarded the books it was still very slow. Fortunately, these days the images can be viewed on the new computers - speeding up the whole process considerably, and giving us more time to add detail to family trees.
Over the years, we've gained great experience in researching all kinds of documents that will bring your family tree to life. Some of the resources we use are listed in the family tree section of our site, but if you're looking for something in particular that isn't there then just contact us – we have a wealth of resources available.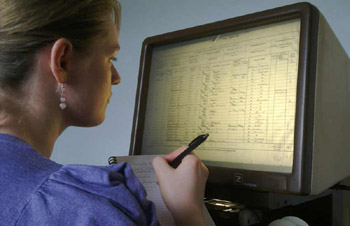 We started transcribing censuses in 2001 as we were referencing the physical copies so often in our own family research. Realising that these resources would be useful to other people, we decided to make censuses and other registers available to amateur and professional genealogists alike. More recently we have indexed the prison registers of the Scottish Borders and Dumfriesshire. We are currently hard at work transcribing never-before-indexed parish records in southern Scotland. See our online indexes and bookshop pages for more details.
On 1 August 2014, Graham and Emma launched a new website, Scottish Indexes, a website which focusses on delivering high-quality Scottish genealogy records and indexes. We're always making new (old) records available. To keep up-to-date, subscribe to our newsletter. We tend to send one out every 6 to 8 weeks so don't worry – they won't clog up your inbox.
If you have any questions, contact us!